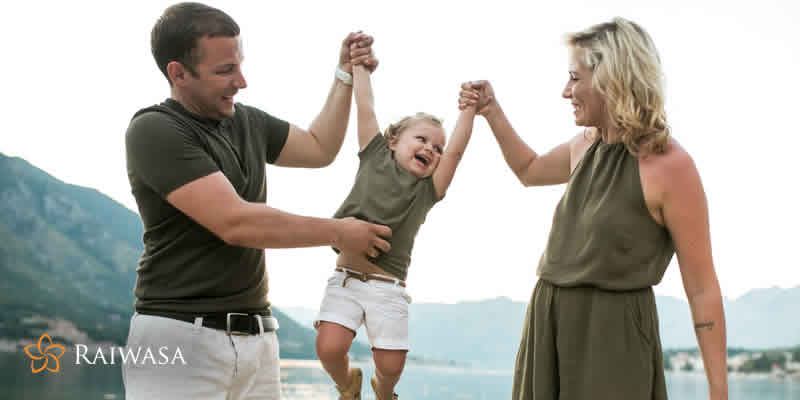 Have you ever traveled internationally with young children or an infant? Taking your baby abroad can be complicated and many people are skeptical of hopping on a plane to California, much less Fiji, with a baby. But with a few tips and tricks, you can seamlessly travel outside the United States, Canada, or Europe with a young child.
Plus, there are big rewards for having the gumption to travel with an infant to Fiji. Just imagine: you are surrounded by swaying coconut trees on the edge of a golden sandy beach in the turquoise waters of the Fiji Islands. Just steps away is your Fiji all inclusive resort, a place like nowhere else on earth. There is luxury dining in the resort, various food and beverage options that highlight  delectable, locally sourced cuisines. Look forward across the crystal clear blue water and take in the striking backdrop, as you sit back and delight in appetizing refreshments and drinks offered at all hours of the day.
What is there to do at a Fiji luxury resort? A multitude of watersports await, such as the best Fiji kayaking and best snorkeling In Fiji.  Surrounded by immaculate waters and with an impeccable setting, you are assured a treasured day out on the water.
The best part of staying at a fantastic Fiji resort is there are amenities provided to make your stay glorious and unforgettable, no matter the number of age of your children. Here are a few tips to help make your vacation easy, even with an infant.
1. Bring what you need for child care from home. Everything in Fiji is more expensive, particularly the baby basics, such as milk, nappies, wipes, and formula. Whereas the added baggage can be complicated to handle while traveling by plane with a baby and toddler, you will be glad to have the familiar brands and products once you arrive in Fiji. However, if you do forget something, don't worry because you can certainly find it somewhere on Fiji.
2. Rent what you can't fit in a suitcase. Sure, you could pack up every piece of equipment and toy that you require for your baby, or you could just hire the whole set while in Fiji. Your Fiji luxury resort or luxury vacation rental can help you find many of the things you need. In. fact, you can acquire what you require for traveling with a baby and toddler, from buggies and pushchairs to car seats.
These bigger items will be waiting for you at the airport or you can have them conveyed to your Fiji accommodation.
3. Arrange your transportation from the airport before your arrival. In your backpacking days, it was easy to arrive in a new place and grab an available taxi, but this becomes far more stressful and is unnecessary when you have an infant in tow. Any of the Fiji luxury resorts can arrange a car to meet you in Nadi.
Even if you have a shorter flight time, from Sydney to Fiji is just four hours, the travel can be tiresome and stressful. To arrive at your destination and have someone arranged to pick you up and take you to your luxury vacation rental or villa with a private pool will be a blessing. Also, let your Fiji accommodation know that you will be traveling with a child and they can even arrange the correct safety seat.
4. Use mild insect repellent and natural products to protect your baby. Mosquitoes and other insects in Fiji are usually an easy annoyance to overcome, but it is different with the sensitive skin of a baby. One method to shield your children from itchy bites is with insect repellent that is made from natural products and doesn't contain deet. Similar to the sunscreen, it must be gentle on their delicate skin.
5. Don't forget to check the list of required and recommended vaccinations. Getting vaccinated before travel is always important. Nevertheless, it's essential when traveling with a baby, especially if the trip will be their first experience in an unaccustomed or international setting.
Although standard vaccinations will deliver a fundamental level of protection for you and your baby, tetanus and typhoid boosters are typically recommended to provide additional peace of mind. When traveling to Fiji, it may be worth considering hepatitis A and B immunizations, as these sicknesses can be spread through contaminated water and food, or thru open wounds and scrapes.