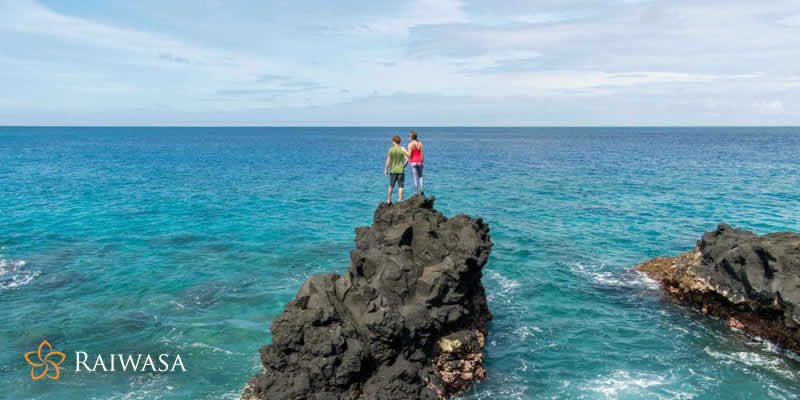 Fiji, a country in the South Pacific, is an archipelago of more than 300 islands. It is famed for rugged landscapes, luxurious resorts, palm-lined beaches, friendly people, and coral reefs with clear lagoons. Fiji is one of the best holiday destinations in the world.
Traveling to Fiji on a vacation means you are in for an experience of a lifetime. You can never run out of fun things to do in Fiji; however, you can start your vacation in Fiji with the following amazing island activities.
1. Take A Stroll Through The Lavena Coastal Walk
The Lavena Coastal Walk is located in the Taveuni Island in Fiji, more precisely in the Bouma National Heritage Park. The park was established in 1990 to protect the dense tropical forest on Taveuni and as a means of generating income for the four villages surrounding the park. If you are a lover of nature and adventure, you must visit the Lavena Coastal Walk during your stay on Taveuni.
The Lavena Coastal Walk is one of the most scenic hiking routes in the world. Taking a stroll through the Lavena Coastal walk is a fun and amazing activity that you will want to do over and over again.
2. Have A Picnic On a Secluded Shore
There are more than 300 beautiful tropical islands in Fiji but only 106 of them are inhabited. There is no better opportunity to get away from it all than to explore Fiji's uninhabited locations. You can pack some snacks, or an entire lunch, and champagne for a romantic helicopter to one of Fiji's more remote islands and enjoy a romantic picnic with your partner.
Also, flying over the Fiji Islands gives you the opportunity to see the islands from above. Viewing Fiji from the sky is a breathtaking and wonderful experience.
3. Scenic Tour and Island Hopping
You can hike with your partner in the rainforest and swim in the waterfalls that are famous on the Fijian island of Taveuni. You can go snorkeling or scuba diving at one of the marine parks. Also, everywhere in Fiji is surrounded by water, so you can sail around the islands by chartering a sailboat for the ultimate fun-filled vacation experience. And there is no need to worry about navigation, as an experienced skipper will ensure you find the best spots.
4. Enjoy The Beautiful Sunsets, Sunrise and Night Sky
One amazing activity you can do every day in Fiji is take a walk on the beach. There is no more cathartic or simple pleasure. Walk down to the shore to watch the breathtaking sunrise, stroll on the beach as the sun sets, or relax while watching a beautiful sunset and approaching night sky. Fiji is famed for its incredible, colorful, and vibrant sunset and sunrise, which encourages guests to rise early and carve out special time with loved ones as the sun goes down. Also, because Fiji is located in the Southern Hemisphere, its night sky is the most beautiful in the world.
5. Enjoy The Local Culture
You must not leave Fiji without visiting one or more of the Fijian villages dotted around Taveuni. Fijians are very friendly, who have a very rich and lovely culture. They will talk to you, show you around, and entertain you, as if you were a beloved family member or old friend. There is a saying that Fijians never meet a stranger, and you will find it is true when you experience life in the village.
During a village tour, You will get to interact with locals and have a taste of their beautiful culture. Some parts of the rich culture still celebrated in Fiji are the kava ceremonies, meke, lovo, Fijian lunch, and the therapeutic sobeto hot water springs.