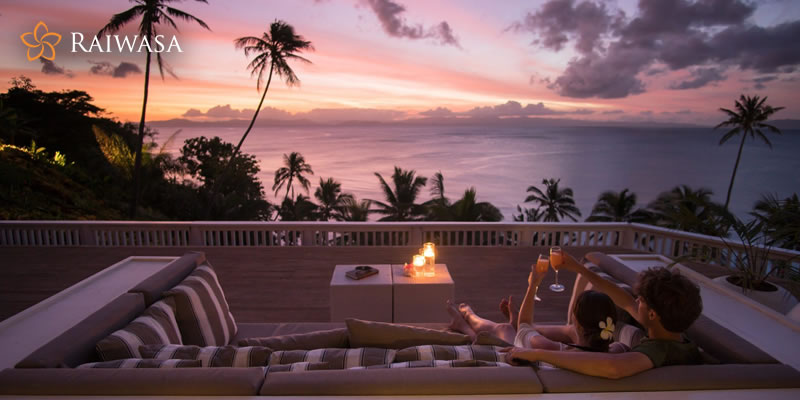 It is the best time of your life by any yardstick, when it is set off, in the sophisticated and luxurious settings of Raiwasa Resort, the magnificent hideaway located in the heartland of tropical Fiji Island. Words seem to fail one in describing Raiwasa Resort and with truly world class amenities lined up, it is a truly memorable experience waiting to lull you into awe-inspiring dream that you will always live to remember.
Raiwasa is a private resort with a team of dedicated staff comprising 12 dedicated employees who will be at your service always and serve you gourmet food in eight unique dining environs. This is luxury dining in resort style for you! The personal touch extends to having your own private chauffeur driven car and a Fiji trained masseur and skin care therapists with dozens of therapy ideas up his sleeve and very personal activities coordinator and cultural diplomat to guide you through the enchanting island with tidbits of Fijian culture.
Pampered to the extent of becoming spoilt in an environment that shouts for all attention in seeking out the unique sights, tastes and sounds of an unexplored country that is waiting to be delved into. The pristine glory of Fiji is marveled at from the Raiwasa Resort with both complementing each other in much-proclaimed grandeur and luxury. The flattering praises sung in favor of Raiwasa Resort are more than well accepted without failing to become trapped in one's self-pride.
Many have switched singing praises to the hospitality and service that is at your disposal in Raiwasa Resort not knowing at all which is the better; the superlative resort or the service at the resort! both going well down with the more than deeply entrenched guests.
What is it that makes Raiwasa so special and enigmatic?
Raiwasa has an aerial view of the Somosomo Strait, offering a 180 degree clear view of the lush tropical greenery and swaying palm trees nicely cocooned, while all along being perched at a high altitude above the South Pacific. With glowing sunsets only to be matched by brilliance of glittering stars by night, one can soak in the luxury of the Raiwasa Resort that has a name to go with it. For Rai means looking out from a height and Wasa means ocean in Fijian dialect that is nothing short of the saying.
The Raiwasa Resort sits elegantly on three acres of land and superbly manicured gardens to boast. It boasts of undefined grandeur and has spacious villa style entrance and underscored luxury that is hard to beat. The three-sided villa with private pool called the infinity pool has a panoramic view of the ocean blues and a series of stairways take you to the garden below lined with papaya, orange and pineapple trees where you can wander aimlessly smelling the sweet fragrance of unspoilt nature.
Considering the villa itself. It has got twin suites connected by a central living area and offset kitchen area that offer an unobstructed view of the large mesmerizing ocean and an uncluttered view of the garden optimized for maximum comfort. The bedrooms and bathrooms are divine offering optimum comfort with twin outdoor bathtubs with a view of the pregnant star-laden sky and resplendent styles.