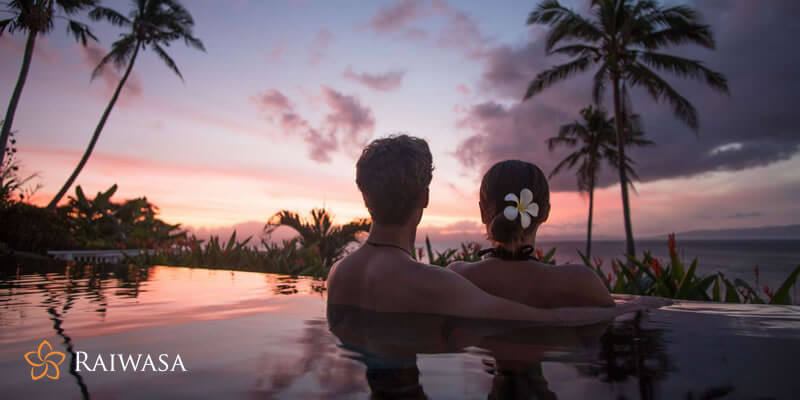 There are few trips more important than your honeymoon. Many couples see this first trip as the most romantic and lavish of their lives. And why not? Your honeymoon should be once in a lifetime and filled with moments that are remembered forever. An important part of creating these memories is choosing the best romantic honeymoon destination.
There are a lot of romantic destinations around the world for people needing a romantic getaway, but nowhere offers the same beauty and hospitality as Fiji.
Fiji islands have everything people are looking for to create amazing memories, as well as everything newly-weds are looking for in a once-in-a-lifetime honeymoon. If you ask a couple who spent their honeymoon on one of the Fiji Islands to tell you about their trip, they will recount a wonderful experience that will make you wish you were them.
Here are six reasons that make Fiji islands the best romantic honeymoon destination:
1. Luxurious Experience in a Private Resort
The private resorts in Fiji have everything you need to make your honeymoon a luxurious experience. Some of the islands are even famous for their private resorts, which means you will have the beach at your doorstep and 24/7 service. When you spend your honeymoon at a private resort in Fiji, some of the things you will enjoy are scuba, stunning accommodation, world-class cuisine, hiking, luxury spa experiences, swimming pool, bars, snorkeling, tranquillity, beautiful scenery, island hopping, and sunset cocktails.
2. Beautiful Sunsets and Night Sky
One of the most romantic things you can do with your partner is strolling on the beach as the sun sets or relaxing while watching a beautiful sunset turn into a mesmerizing night sky. And the stars here are not to be missed! Also, because Fiji is located in the Southern Hemisphere, its night sky is the most beautiful night sky you have ever seen.
These are just some of the romantic moments things you will enjoy with your partner in Fiji
3. Picnic on a Secluded Shore
There are more than 300 beautiful tropical islands in Fiji & only 110 of them are permanently inhabited. You can pack some food and champagne and take a romantic helicopter to one of the more remote islands for a romantic picnic with your partner. An island all to yourself? There is nothing that could be more romantic or lavish for your honeymoon destination.
4. Island Hopping
Everywhere in Fiji is surrounded by water so you can go island hopping, or rather islet hopping, by chartering a sailboat for the ultimate honeymoon cruise with just you and your partner. Islets are smaller pieces of land that don't quite qualify as islands. There are thousands of these small spots of sand all over Fiji, and discovering those nearest your private resort makes for the perfect day.
5. Enjoy the local culture
The Fijians are very friendly & they are people who have a very excellent and lovely culture. Some parts of their rich culture are the kava ceremonies, Fijian Meke, lovo, Fijian lunch, and the therapeutic sabeto hot water springs.
6. Scenic tour
While Fiji is known for incredible beaches and the opportunity to do nothing at all, you don't want to miss the adventurous side of these tropical islands. You can hike with your partner in the rainforest and swim in the waterfalls or go scuba diving at one of the marine parks.