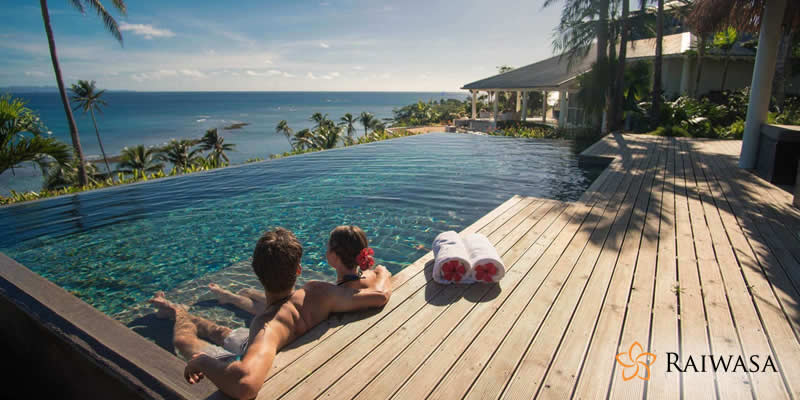 There are a number of Fiji All Inclusive Resorts that dot the skyline but there will always be only one befitting luxury resort that will bring back memories of your stay in Fiji Island. That is Raiwasa Private Resort. A luxury dining in resort where even a million praises fall short in extolling its myriad features hinting at an optimal and lavish spread. The resort lies sprawled atop the South Pacific bay with an unparalleled 180 degree view of the Somosomo strait. The beauty of lush green forests and swaying palm trees festoons the resort transporting you into a place with a sheer twist of sublimity.
Festooned on three acres of land, Fiji Luxury resort that is Raiwasa Private Resort is the epitome of luxury and scenic charm that is graced by well-done gardens. The three-sided infinity swimming pool overlooking the blue and tranquil ocean waters is right out of a Walt Disney film. In a sweeping motion, the pool ends in a series of steps that descend into a private beach bordering a garden peppered with freshly laid banana, pineapple, orange, lemon and papaya trees.
The Raiwasa experience stays with one forever even after your vacay at the Fijis is over. Raiwasa is replete with 12 highly trained employees with your own personal 5-star chefs that serve gourmet style cooking in 8 unique dining locations. You will be chauffeured around in your own personal car and will have the services of a trained masseuse from Fiji, a skin-care therapist and a cultural attache to guide you through the fascinating Fijian culture.
You will be pampered at every step in this magical world where you now find yourself in and rest ensured that you will never have enough of the royal 5-star treatment that you now have got used to. This enchanting and silken pleasure that one surrenders to in the lap of luxury is like no other destination that one has frequented or will visit in the near future. Words fail one who has visited Fiji and has stayed at Raiwasa Private Resort in his sincere eulogy of the resort. It is no exaggeration when majority of guests having stayed at Raiwasa have rated the Raiwasa experience as one of the top 10 travel experiences of their lives. So kick off your shoes and experience a surge of thrill with an emotional connect that spills over. Raiwasa in local dialect means looking out to the sea.
Families planning a honeymoon stay in the Raiwasa will never have a dull moment with the invigorating spa, a refreshing swim and fruit-laden garden that beckon you to enjoy all the grandiose features in this awesome honeymoon destination. Honeymoon couples will not be let down if they are seeking a relaxed life with time easily spent lazing on the beach bed sipping dry martinis and watching the sunset from the edge of the swimming pool as the sun turns a crimson hue and fades away into the night sky.
One of the most exquisite resorts, the Raiwasa Private Resort is a haven of many escapades and is the mother of all experiences, only seen to be believed.