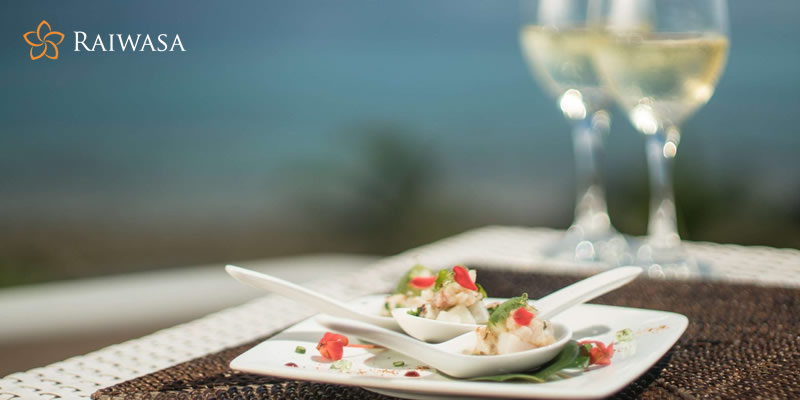 The Vegan's diet to good and wholesome food is quite impressive and has all the makings of a rich and plenary diet consisting of a decent helping of legumes. Legumes are the alternative to a rich diet of meat, poultry and eggs. Legumes consist of beans, lentils and peas that make up for the lack of proteins and vitamins that would otherwise have been obtained from dairy products and meat.
It is a very sweet gesture of the Fijians who are very accommodating with the hotels that serve vegan food also. The restaurants serving vegan food are plenty and are abound in Vegan food with a discussion on guide to Vegan Food in the lush Fiji islands.
Flying Fish:
Ensconced in Hotel Taj, the Flying Fish are the connoisseurs of a vegan palate with chefs raring to go at preparing Vegan food and leave no stone unturned in keeping the Vegan's well- looked after. What succeeded was a healthy Vegan DIet consisting of gnocchi, a heap of vegetable sides and tempura vegetables. It is neither cheap nor is it available far and wide, but still a Vegan's principal diet.
Habibi:
A cute and cozy retreat tucked away on the entrance to Nadi. This is exactly the place to be after a day out in the Nadi waters exploring the hillside. There is a courtyard reminiscent of time passed by and you will crave for some rest to your weary legs as you flop down in a heap on some cushy cushions. You can feast yourself in some falafels, a fresh salad and bread with babaganoush and crowd puller hummus. The vego pizza minus cheese is also a real lip-smacking treat everyone would love to go gaga about.
Mamacistas:
A foodie's delight, Mamacistas is the hot favorite among travelers and a constant eat-out on trip advisor unarguably for its relishing Mexican food. For the food to become Vegan, the ingredient cheese is totally discarded from the diet. So here you have fajitas and macho nachos without cheese and incredibly loved all over. Mamacistas is bang center in Wyndham Resort.
Lulu's Resort:
This resort is located in Port Denarau and is a gourmand's delight. The resort is an ideal getaway to soak in the sun-drenched sea shore stare at the scenic surroundings and have a sumptuous lunch consisting of buddha sushi roll, tempura veggies and a local dish palusami.
Kitchen Grill:
Located at the Westin, Kitchen Grill is a tipsy revellers delight that will not hate him for it for the 4-6 pm happy hours (bula hours) of drinking by the bar at the poolside and after having downed a few tequila shots, you can head to the kitchen grill to eat to your heart's content.
Zing:
If you have a penchant for eating something spicy, all you need to do is head straight to Zing also located at Westin, where the buffet breakfast turns a full circle into a spicy Asian Restaurant. You can relish noodle stir fry, homemade dumplings and steamed greens. Just to be on the safer side of a vegan lunch, ask for no fish or oyster sauce.