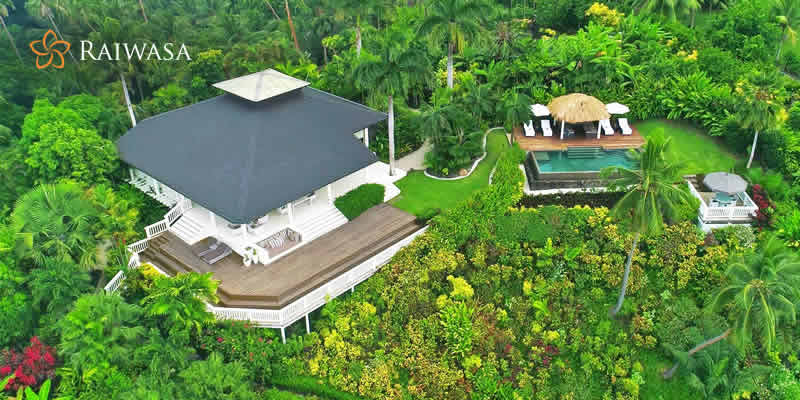 Fiji Islands is a popular destination among couples & travellers owing to its lushness & luxury vacation rentals. Fiji Islands has seen a tremendous increase in tourism because of the several fun activities like scuba diving Fiji, best snorkeling in Fiji, best Fiji kayaking, and many more.
The tourists who visit Fiji Islands to spend their holidays, are treated with a warm welcome and marvellous accommodations. So, let's take a look at some of the great accommodations for your Fiji island holidays.
Luxurious Resort Raiwasa In Taveuni Island
Get treated like royals at Raiwasa Private Resort. With the property sitting on a 3-acre land and coupled with beautiful flaura, you are sure to get mesmerized with its beauty.
At Raiwasa, you are being treated as royals by the 12 staff that you'll hardly see. Here, you will get the serenity you have always sought after.
Get a room with an ocean-view or garden view and treat yourself with all the lushness that Raiwasa has to offer.
Not only this, but if you stay at Raiwasa, you are in for a treat thanks to the executive chef Richie & his team who specializes in exotic dishes of diversified culture of Pacific Rim, and especially Fiji.
There are numerous in-house amenities included like massage, kayaking, snorkeling, star gazing, and many more. Or participate in island's other activities like scuba diving. Pearl farm tour, shark diving, hiking, and many more. This has made Raiwasa- Fiji all inclusive resort.
Stay In Viti Levu Island, the Largest Island Of Fiji
Unlike other Pacific Islands, Viti Levu offers accommodations for everyone's budget. You can find places starting from a hundred dollars up to some thousand dollars.
One of the main attractions of Viti Levu is the Garden of the Sleeping Giant & Sabeto Hot Springs & Mud Pool. Being the largest island of Fiji Islands, it's also the site for Fiji Island's primary airport.
You can find various accommodations ranging from beach bures to villa with private pool. Viti Levu is also filled with many fun activities, and if you're a fan of water sports, then you are in for a treat. Kayaking, scuba diving, snorkeling are some of the sports that'll entice you.
Tavarua Island – Small Island, Big Heart
Tavarua island is your go-to island if you're on a romantic trip with your partner and both of you are water-activity enthusiast. Surrounded by a coral reef, this heart shaped island has immense number of water sports that will keep you joyful & content.
Some of the activities that you'll appreciate includes surfing, sport fishing, scuba diving, snorkeling, surfing & kayaking.
Not only is this the place for water sports enthusiast, but also for someone who's looking for accommodation close to nature. Here you can find beach bure, or luxurious villa to spend your Fiji island holidays.
Beqa Island – Lushness, Great Accommodation, and a Different Culture
Witness a unique Fijian culture in Beqa island, the sacred firewalking. It was introduced in 1902, and since then has gained a lot of popularity. Tourists who visit Beqa island makes sure to include it in their to do things on Fiji Islands.
The island is relatively small but offers luxurious accommodations in resorts & bures. The lushness, and the luxurious stay will surely make you fall in love with the island. Get a beachfront bure with a large sundeck so you can enjoy the beautiful beach of Beqa Island.