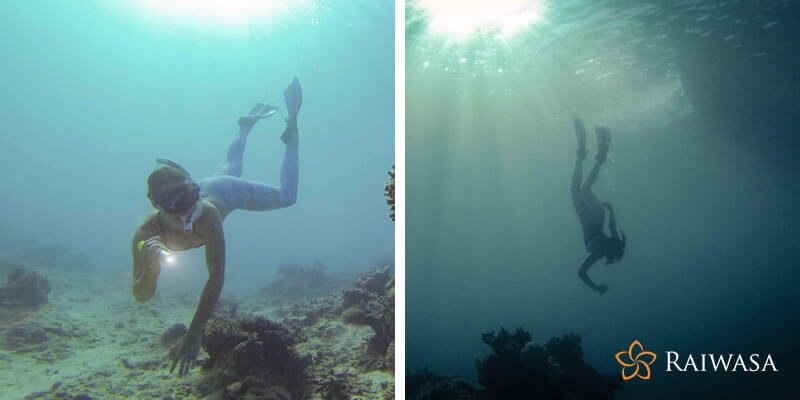 If you are planning on vacationing on Taveuni and want to be able to truly enjoy the various types of coral and sea life that lives in the waters around the island then you may be wondering whether snorkeling or diving is the right choice for you. To help you make the right decision here are a few things you may want to consider.
Your Experience-
While there are a number of dive guides on Taveuni that will give you lessons in diving, for people who have little experience being in the ocean, snorkeling may be a much better choice. Snorkeling doesn't require the same amount of knowledge as diving does, and therefore, can easily be done by first-timers. Plus, in the clear waters around Taveuni, you can see plenty of coral and sea life without having to swim in deep waters.
Two of the best areas for snorkeling on the island are in the Waitabu Marine Park, which also offers snorkeling guides to those that want to learn from the locals as they float. Here, snorkelers can see some beautiful coral, giant clams and several varieties of colorful fish. The guides themselves are friendly and will point out marine life you might otherwise miss.
Vuna Reef is another great snorkeling location. although it is also a dive spot, the reef has some shallower spots that are great for seeing fish and coral closer to the surface.
For those with some experience in ocean adventures, scuba diving may be a better choice. By being able to go deeper underwater you can get up close and personal with more variety of marine life. Two of the best diving spots near Taveuni are Somosomo strait and the Rainbow Reef, where you can see a plethora of soft coral, as well as, hard coral and a host of other fish, reef sharks, and eels.
How Comfortable Are You In Deep Water?
Some people even those who are excellent swimmers are not comfortable in really deep water. If you prefer fairly shallow water for swimming, then snorkeling is definitely the better choice. On the other hand, if really deep water does not bother you, then diving may be something you will want to try. Keep in mind if you have never scuba dived before, some training will be necessary.
There are a number of different snorkeling and diving resorts scattered around the Island of Taveuni, and many of these will actually loan you the proper the equipment or offer snorkeling or dive tours and guides as part of your resort package. Likewise, there are dive shops that cater to beginner and experienced divers to offer certifications, training, and other services.
Many visitors to this island enjoy both snorkeling and diving for different reasons. Time should also be a consideration. Snorkeling can be done even when time is limited and you only have a half hour or so before lunch or taking part in another activity. While diving requires all or most of the day, since it normally involves traveling out to deeper water by boat and once suited up for dive you want to take full advantage of every minute you can.
Ultimately, determining whether snorkeling or scuba diving in Fiji is right for you depends on your experience, your fears, and your own sense of adventure.