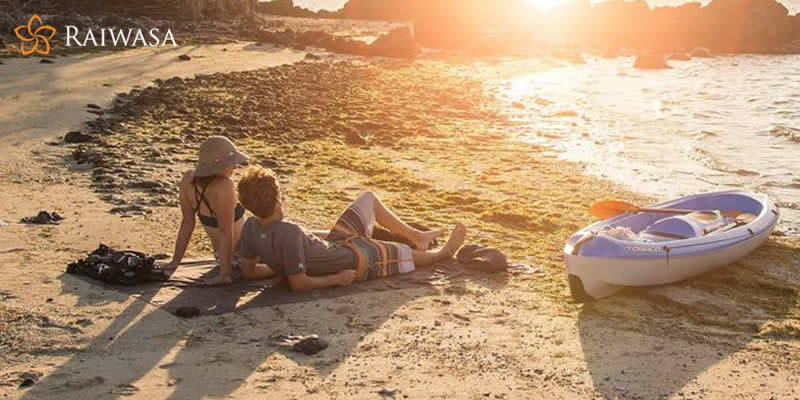 "Once home to fierce warriors
Still swamped with friendly people
Fiji's third largest, cigar-shaped Island
The Garden Island colloquially called by people
Environed with lush jungles, secluded waterfalls,
Gorgeous beaches, and abundant wildlife
All this makes the place heaven on Earth
Immerse in the nature, which in the city, you dearth!"
It is Taveuni I am talking about……
If you are planning to visit Fiji anytime sooner, than here are the reasons to not MISS Taveuni at all.
Read on……
Taveuni is the third-largest island in Fiji, Viti Levu being first and Vanua Levu, second. More than a third of the Island is protected by forest reserve and the Bouma National Heritage Park and an extensive marine park at Waitabu – home to Eel Reef and the Great While Wall. The Island being rugged, verdant and pristine also known as the Garden island of Fiji.
An archetypically beautiful tropical island, thick with vegetation and magnificent tropical flowers. Much of the Island is covered by the pristine rainforest. Taveuni has a rich natural history to offer it to the visitors especially of birdlife, one can still watch beautiful birds which thrive not in other parts of Fiji but on Taveuni.
Accommodation
Taveuni is a place which welcomes all kinds of people from across the world and able to accommodate everyone. One can find huge array of luxurious private island resorts, five star hotels, range of affordable hostels and dorms etc. There's a place to stay for everyone be it a newly-wed couple for their honeymoon, or couples for celebrating their 25 years of togetherness, or family looking for a kid-friendly getaway, or adventurers or backpackers for their adventure solo trips, anyone and everyone is welcomed wholeheartedly in the beautiful Island. Moreover, you will be glad to be served by the friendliest people on the earth.
If you are among those who want to witness the local lifestyle of people on the Island than you have homestays to stay with localites there and to know more about the real Fiji!
Experiences
There is a lot to explore on Taveuni, from tropical rainforests to tropical reefs, whether to cool off under a waterfall in the heart of the jungle, or under the waves at world-famous dive sites. You have plenty of options for house activities like: relaxation, massages, star gazing, kayaking, snorkeling, paddle boarding, whereas, for Island activities you can do Scuba diving, hiking, coastal fishing, pearl farm touring, bike riding, and snorkeling.
Besides home to more than 100 species of birds, including Silktails, Kula Lorikeets, and Orange Doves the Bouma National Heritage Park is also rich with hiking trails and wildlife. You can also enjoy the Marine life at the nearby Rainbow Reef and Somosomo Strait, where you can closely face with colorful corals and have a great diving experience of a lifetime with over 1500 fish species.
Food and Drinks
Fiji is not only famous for its local cuisine and skillful chefs, but also variety of international delicacies from American fast food to Japanese, from Mexican to French à la carte. create mouth-watering cuisine.
While holidaying in Taveuni don't miss a traditional 'Lovo'; a feast of luscious meats, coconut infused greens and tasty root crops baked, in an earth oven, served with squeezed lemon juice and a side of chili and you are all set to savour the Fijian cuisine.
Moreover, you can find many restaurants serving Indian, Chinese, Thai and other continental cuisine. Also, the fruit! You will be delighted to taste locally grown pineapples, bananas and seasonal mangos.
Don't miss to try the national drink – kava. Kava is local drink in Fiji and is a must try for everyone. Roots of the kava plant are first dried and pounded and then they mixed with clean, fresh rainwater. Served traditionally in a coconut shell, and shared as a symbol of acceptance and friendship.
How to Reach Taveuni
There are two ways to reach Taveuni Island either by air or by water, whichever way is comfortable to you. There are regular flights to the island and if you want to ferry to the Island than ferries departs from Viti Levu each week. Also, helicopter and seaplane charters are also available.
To explore the Island completely, ask your resort to arrange for your island tour!
Eat, dive, enjoy, immerse, drink and be HAPPY! Happy Fijiing…. ☺ ☺