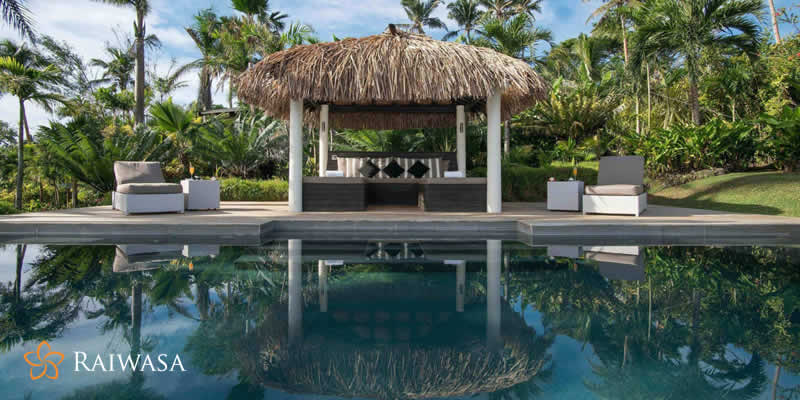 Welcome to a tropical heaven that really satisfies the word. Raiwasa is undisputedly not just one of the most lavish properties in the entire of Fiji, yet in addition one of the world's most elite hideaways. Raiwasa is a private retreat with a committed staff of twelve profoundly practised workers with your very own 5 star culinary specialists, that produce gourmet nourishment served in eight remarkable feasting areas. You will make the most of your own private vehicle and chauffeur, Pure Fiji prepared back rub and healthy skin advisors, private visits and exercises facilitators and a Cultural attaché to control you through the captivating Fijian culture.
You'll be enchanted by the mysterious world in which you get yourself; spoiled like sovereignty in an amazing tropical setting not many individuals will ever find themselves in. You'll wonder about the exceptional sights, sounds, and tastes of an immaculate domain that intertwines five-star solace and a way of life you will never forget. You will run out of superlatives in describing Raiwasa. Spectacular, magnificent, stunning, great, and bedazzled are marginal words that have been utilized. At the point when experienced visitors let you know, the culinary is the best they've at any point tasted, and the administration is top notch, you realize you've discovered your very own paradise.
Think about that 99.3 % of our visitors vote their Raiwasa experience as one of their main 10 travel encounters of their lives. Kick off your shoes and loosen up like you've never done before, or experience an emotional mindset like you never have felt. The decision is consistently yours.What makes Raiwasa so special?
Consider the Location! It's perched high over the South Pacific, with a wonderful 180-degree telescopic view right over the Somosomo Strait and encompassed by a lavish tropical rug of green rainforest and swaying palm trees. The sensational dusks are complemented by starlit night with brightness of the stars around evening time. No big surprise that its name mirrors its grand area. In the Fijian tongue Rai implies watching over from a height and Wasa implies ocean or sea. Raiwasa basically implies watching out to sea.
Consider the property Sitting on three sections of land of land and brilliantly manicured nurseries, Raiwasa Villa offers the security and downplayed extravagance of a world-class retreat. The three-sided vastness pool is undeniably arranged to give dazzling perspectives on the dark blue and turquoise sea waters. A progression of steps bring you down to the private sea shore or simply meander through the assortment of uncommon palm trees, and banana, papaya, pineapple, orange and lemon trees.
For by and large excess in your own special private estate, the pick of the parcel is Raiwasa Grand Villa featured with ocean seen among organic product trees. The estate has two rooms with a jumbo bed and full bathroom, similarly as an outside uncommon first night shower, and fold around deck, private unlimited quality pool, a full kitchen, similarly as a business kitchen for the staff to prepare gourmet dinners for eight eating zones. With an in-domain manipulate, kayaking, swimming and paddleboarding, you could without quite a bit of a push to look for delight at the estate.
On the off-beat chance that you do manage to pull yourself away from the sumptuous Raiwasa five star retreat, the staff can schedule an angling, scuba jumping, a pearl farm visit, bike riding and moving for you. Unarguably, this manor takes the cake for making a splendid treat for a honeymoon night.