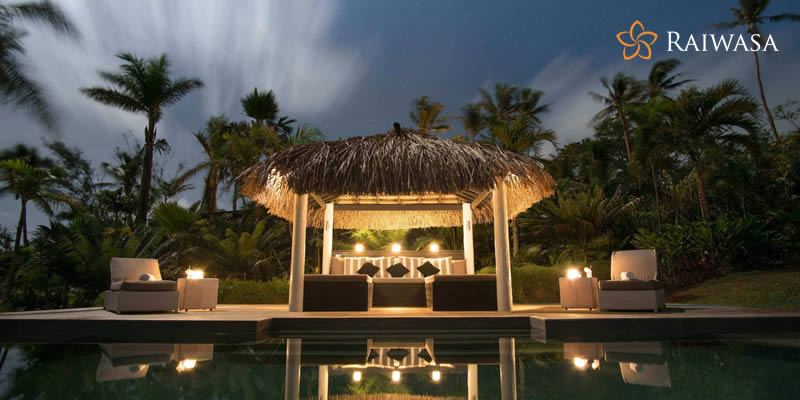 Taveuni is a Cigar-shaped, third-largest island in Fiji, after Viti Levu and Vanua Levu. Environed by pristine rainforest, Taveuni is an archetypically tropical island, thick with vegetation and magnificent tropical flowers. More than a third part of the Island covered by the Bouma National Heritage Park and an extensive marine park at Waitabu. Also, known as the Garden island of Fiji.
The place is an awesome honeymoon destinations and a great option for the adventure freaks!!
Accommodation At Taveuni
Here in Taveuni you can find huge array of luxurious private island resorts, private 5 star villas, five star hotels, villas with private pools, range of affordable hostels, homestays, and luxury vacations rentals, and dorms etc. Island welcomes everyone wholeheartedly from a backpacker to a honeymooner. So, the location is swamped with all types of accommodation options for one and all, with an opportunity to be served by the friendliest people on the earth.
Experiences At Taveuni
There are myriads of options for one to experience Taveuni to the fullest. If you are peace lover than just a nature walk, or watching dramatic sunset, or mere gazing the starry sky will add to your peace. Plenty of activities are available from relaxation to massages, kayaking to snorkeling, paddle boarding to Scuba diving, hiking to coastal fishing, pearl farm touring to bike riding, bird watching and much more….
Food and Drinks At Taveuni
Fiji is famous for its traditionally healthy local cuisine and skilful chefs, besides, it offers variety of international delicacies from – Asian Fusion, Fijian, French, Indian, Japanese, Mexican, and Spanish. All the mouth-watering cuisine, one can get here to satisfy their taste buds with Luxury Dining experience in Resort.
Also, you will be delighted to taste locally grown pineapples, bananas and seasonal mangos. And the traditional drink – kava. Kava, made up of powdered roots of yagona plants!
Climate At Taveuni
Yes, it is very important to know the climatic conditions of Taveuni before you do all your bookings for the place!!
Taveuni is described as typical highland. More often than not, the climate here is tropical without temperate extremes. However, if you are planning to trip here between April and November, then you must know that the area is prone to tropical cyclones. Rainfall here on the island are high simply because the central mountains produce precipitation by orographic uplift. Annual rainfall at the eastern side of the island is, as much as 10 metres (33 feet), whereas, the western side is sheltered from the southeast trade winds by the ridge.
Furthermore, because of the surrounding waters Taveuni experiences only modest changes in temperature throughout the year. The maximum temperature here at Taveuni ranges from an average of 26º – 30º C (80º – 86º F) and the minimum temperature range is 20º – 23º C (68º – 73º F). The warmest months on Taveuni are January and February and the coolest months are July and August. Mostly one can encounter only two seasons here, wet and dry.
March is the wettest month on Taveuni and July is the driest month here. Of course, you need to know that when the rain hits the place, it is usually heavy with brief local showers and thunderstorms. Sometimes, you cannot even depend of weather forecast. Just a little precaution needed in rainy season and rest is wonderful at the Island to spend a beautiful and wonderful time with your loved ones amidst nature.
Enjoy your vacations at Taveuni….. You will love it!! ☺ ☺