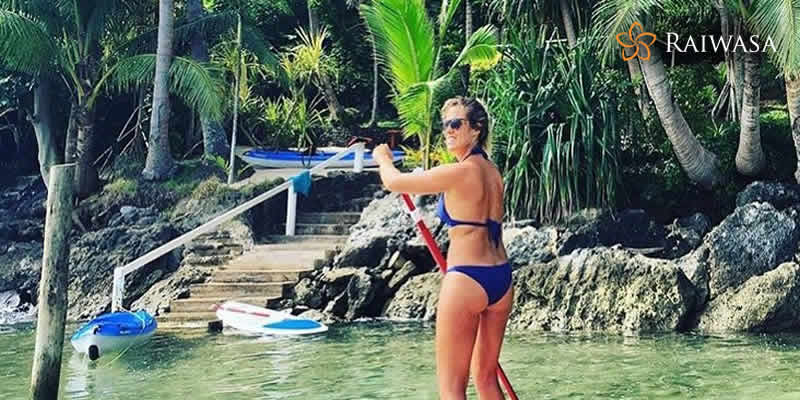 Taveuni Island is a special destination and your first trip is impossible to forget. It is a place where you notice both the kindness of the people and the natural wonders of the ocean, fauna, jungle, and waterfalls. The combination of friendly locals and incredible beauty make Taveuni a must-see destination for many people and we can't recommend it enough. Here's why.
The people are incredible and welcoming.
Unlike busy and bustling, Viti Levu, Taveuni is dotted with several small villages and traditional communities. You won't find a city or big metropolitan area on the island, but the locals you do meet are welcoming to visitors and excited to share their culture. If you want to encounter the famous friendliness of Fijians, there is no better place. On Taveuni, their high-spirited and lively character offers happiness and loving memories to any visitor.
If you are yearning for love and relationship, the light of the Fijian heart can reach you with in a sincere and friendly smile.
There is so much to do on Taveuni.
The splendid thing about Taveuni Island is there are multiple things to do in a small area. You have the Fiji luxury resorts located around the island that create an incredible and relaxing environment for accommodation. Through these vacation rentals in Fiji you can arrange snorkeling, kayaking, paddleboarding, visits to pearl farms, and day-long diving trips. Plus, there are hikes, waterfall adventures, and so much more located on land.
First-time visitors are often overjoyed by the sheer number of activities they find when arriving on Taveuni. But do not allow the diversity of experiences overwhelm you, most visitors to Taveuni come back year-after-year to experience all the island has to offer.
Of course, a first time visitor should be aware of the weather and climate on Taveuni. Any time of year, temperatures across the island are ideal for a comfortable vacation and you can partake in the  best Fiji kayaking or best snorkeling in Fiji, no matter when you visit. Yet, there are certain times of year when Taveuni experiences more rain and can see more thunderstorms. These months shouldn't be a huge deterrent to a first timer on Taveuni, as the rain and storms are refreshing and offer a different experience on this tropical island.
Taveuni's jungle is the best in Fiji.
Another reason to visit Taveuni during the rainy season? Without a hesitation, the forest is at its finest after a stable and sufficient rain.  This is when the flowers turn out to be the most vibrant and the plants put on their greenest show. And the longer it rains, the more the jungle on Taveuni truly comes to life.
The rain invigorates this valuable bio-network, and numerous visitors learn that the tropical rains on Taveuni Island, also, revitalize their spirit. Unlike several destinations in the world that basically turn gray and low-spirited, Taveuni Island is vibrant and alive after a rainstorm. Here, a dark sky is a symbol of cleansing and revitalizing rain that will dampen the temperature and convey new life to the island. As a first-time visitor, you may be lucky to experience the exquisiteness of watching a downpour, on Taveuni – you'll find it is exciting and mystic.
You will see the real Fiji on Taveuni.
To experience the real Fiji, you need to get out of the cities and away from the most crowded beaches. Traveling to a quieter location can help you fully experience the real Fiji. For example, on Taveuni, the magnificence of Fiji lies in the natural phenomena found in the forest and the generosity in the hearts and souls of the native people.
Taveuni Island is a lovely experience, with magnificent scenery, but it is also special for it's secluded and private beaches, incredible villas, and exceptional hospitality. A great place to unwind, recuperate and feel that warm sunshine seep in.. With approachable citizens, empty beaches and intact nature, you will feel like you are the only people or at least one of the very few that are discovering this island.