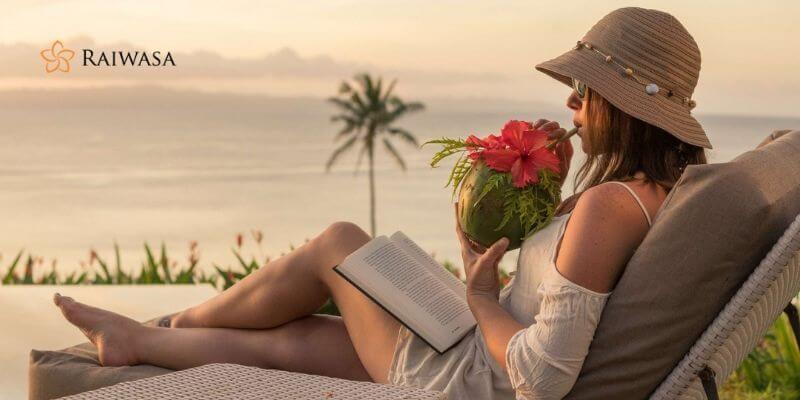 Fiji, the most mesmerizing country in the South Pacific. It is an archipelago, consisting of more than 330 islands and 540 islets scattered over millions of square miles. This luxurious island is famous for its rugged landscapes, rainforests, palm-trees that are lined along the beach, exotic coral reefs, wide species of fishes, crystal clear lagoons, white-sand beaches, and fascinating culture. The major islands of Fiji are Viti Levu, and Vanua Levu that contain most of Fiji's population.
The Fiji island provides exotic getaways and luxurious resorts to all the travelers. Sometimes, it is assumed that Fiji's is just for couples and great for honeymooners or family. Well, sure it is but Fiji island also has plenty of offers for solo travelers. Solo travelers can relax, party with friends, or meet new people.
Most often, solo travelers love to travel to tropical destinations, because it provides an extremely unique experience and a memorable trip. However, Fiji is the best place for solo travelers as it has fantastic opportunities to explore the place peacefully. Fiji, in particular, is the perfect place for a solo trip.
Accommodation/ Stay For Solo Travelers
Fiji offers an extensive range of luxurious resorts and hotels for the tourists. But if you are a solo traveler and looking for a mid-range budget-friendly place to stay then you can find some good hostels in Suva, Saweni beach, Yasawa island, or Coral Coasts. You can also look for affordable rooms in Taveuni and Vanua Levu where the resorts and hotels have been transformed into specialized rooms for solo travelers. You can get basic accommodation where you have access to resort amenities at discounted rates. Besides hotels, you would be pleasantly surprised to find guesthouses, homestays, and boutiques that offer a small personal place to stay. At such places, you get the opportunity to interact with the localities and know about the lifestyle and local experiences.
How To Travel Safe When Solo In Fiji
Fiji is considered as a safe destination for solo travelers. Basically, the local Fijians have a welcoming approach for the visitors. This genuine and warmth of the local Fijian translated to excellent hospitality and wish to invite travelers to experience the major local aspects of Fiji. It is quite simple to procure invitations to visit and observe the local villages and also participate in the traditional ceremony. Well, make sure that when you are traveling solo, you would want to stay smart and careful regarding your safety.
Fiji island does not pose any threat to solo foreign travelers as the number of crimes, accidents that involve foreigners is less as compared to other tourist destinations. However, you must have reasonable amounts of caution for wallet, purse, valuables, and other important things.
Activities To undertake When You Are Travelling Solo In Fiji
Generally, on the island destinations, tourists do not have anything special to do except lay on the beach or lounge poolside. However a solo traveler who actually seeks to have an adventurous trip finds the lack of activity undesirable and boring. But this is not the case when you are traveling to Fiji. In Fiji, you have endless options for interesting activities such as hiking in the jungle, kayaking, snorkeling, and swimming. You can also explore the villages and learn about traditional cultures, folk dance, music, and authentic Fijian food.
Underwater diving provides an exotic experience where you can observe different plant and fish species. You can have a walk alongside the white sand secluded beaches and explore the beautiful coastline. These adventurous activities include enjoying the stunning scenery of the coral reef, jungles, and waterfalls activities. Moreover, amongst all the physical endeavors, you'll find enough time in Fiji for self-reflection and quiet moments.
Summary
This was the ultimate girl guide when you are traveling alone to Fiji. Traveling solo means freedom and it is not scary as it might seem to you. You would find your solo trip to be one of the best vacations. Your solo trips would help you in exploring new places, the traditional culture of Fiji, meeting the local Fijian, and also be part of the folk festivals. However, you need to be extra careful while exploring the jungles and coastlines. Take proper safety measures before you set your foot on this beautiful tropical island.