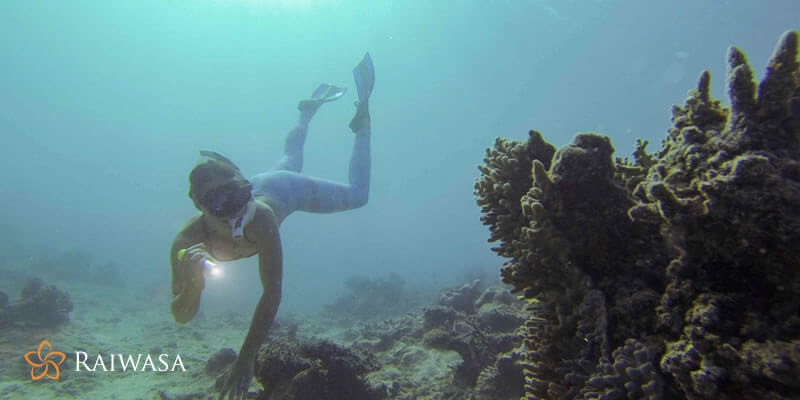 Taveuni has (deservedly) earned a reputation for being the soft coral capital of the world. while the soft coral is definitely worth a scuba diving trip off the coast of Taveuni, there is actually a lot more marine life to see that makes scuba diving in Fiji worth your while.
For starters, there is the famous coral. In fact, around Taveuni there is coral, coral, and more coral. The waters off Taveuni have almost 400 different species of coral, and if you dive at the right time of year, you can actually watch some of this beautiful colored coral bloom right in front of your eyes.
In addition to the coral, there are 1,500 different species of fish that call the waters around Taveuni their home. You'll immediately know that scuba diving Fiji and Taveuni is well worth your time because it feels like a fish tank when you jump into the water. Many of these fish are brightly colored, creating an underwater rainbow that you really have to see to believe. Chances are, in every direction you look you will see another beautiful and exciting species of fish.
Of course, the colorful fish and coral are only the tip of the iceberg when it comes to the marine life you will be able to see when diving Taveuni.
There is so very much more you need to see and experience. You're also likely to see giant clams (some close to two feet in size), sea turtles, eels, and sea anemones. You'll likely see octopus and squid moving through the water, just like some type of marine spirits and manta rays that glide gracefully past your group of divers. Tuna, reef snakes, sea urchins, and starfish are other sea creatures you are likely to spot during your dive.
For those who are looking for more exciting marine life in the waters around Taveuni, you'll be thrilled to know that you are also likely to both pilot and humpback whales in their natural habitat as well as hammerhead, whitetip reef, and leopard sharks.
There is actually so much marine life to see that one dive trip may not be enough to take in all the underwater beauty in this area. Experienced divers come to Taveuni year-after-year to explore different parts of the Rainbow Reef, and you may actually want to plan a couple of different dive trips during your vacation, so you can really discover all the beauty that diving Fiji has to offer.
Also, don't forget to capture the moment. You may want to bring along an underwater camera to document all the thrilling sea life that will be visible before you.
Dive Guides Know All the Best Spots
When planning your vacation to Taveuni think about staying in one of the dive resorts or an all inclusive villa that offers diving as part of their included activities. When making your reservations explain the type of dive experience you are looking for and the marine life you really want to see. This will help the resort plan your trip and connect you with the best dive shops and scuba dive instructors. Most of these resorts will try and accommodate your every need.
Keep in mind that the dive guides recommended by Taveuni's top resorts and villas are professional and really know the waters around the island. These dive experts will plan your dive down to the detail, so you will be able to see the most variety of fish and coral possible. All you need to do is get ready to jump into your underwater adventure.