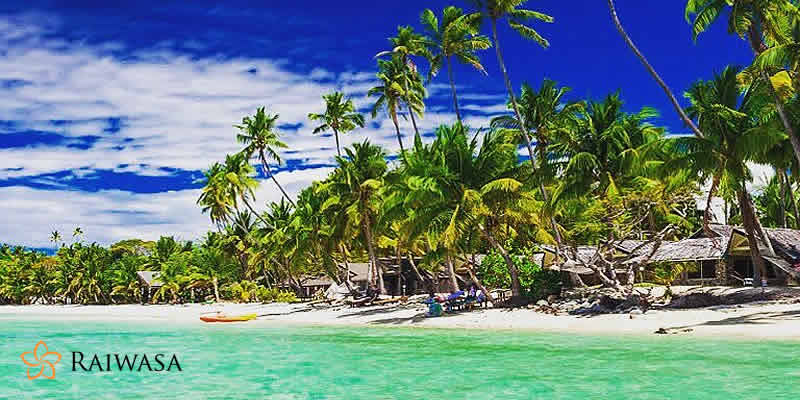 Fiji has an island chain of more than 330 islands that provides its tourists with countless tropical fantasies and adventure. These superb islands have everything to offer you, right from the serene peaceful environment to luxurious resorts. You can enjoy various water sports such as swimming, boating, and snorkeling.
1. You Must Experience The Authentic Fijian Culture At Robinson Crusoe Island:
How To Reach: Robinson Crusoe island is not far away. You just need a short 45-minute boat ride to reach Robison Crusoe from Nadi. Even these 45 minutes will feel like a paradise far away from all the stressful life of the city.
Once you reach the island, you would be greeted with traditional folk music, open arms, and a friendly welcome. This beautiful island exhibits the great Fijian culture that helps the visitors to blend in by involving in exciting activities having enjoyed the authentic cuisine of Fiji. You can go fishing, kayaking, and snorkeling. Moreover, you can also learn to climb a coconut tree, make some coconut jewelry, and observe the exotic view of the spectacular fire show. Generally, most tourists prefer to have day trips on the island but if you like to stay longer at the island then you can live in conventional Fijian Bure.
2. Experiencing The Serenity Of Nature At Taveuni:
How To Reach Taveuni: To reach Taveuni, taking a flight from Nadi would be a better option as ferries are not available 24/7. Moreover, ferries would take longer than flights. You can check the time schedule and book your flights. You can also find charter services to Taveuni from Nadi which would also be a convenient option.
Taveuni is quite popular among tourists for its beauty – mesmerizing beaches, gardens, and turquoise-blue water makes it the best place in the world. This island is also called the "Garden Island" because it is the only place where you would find several species of rarest flowers and plants.
Not only this, but you can also visit the magnificent Bouma National Heritage Park and amazing Tavoro Waterfalls which serve as natural swimming pools. You can go camping in the lush green landscape of Taveuni and follow the coastal walk to reach the village of Lavena. Top sites for tourists:
Bird Watching – Kula Lorikeets and Silktails
White Sand Beaches
Rainbow Reef
Eel Reef
Great White Wall
Waitabu Marine Park
3. Wakaya Island
How To Reach: There is no direct way to reach Wakaya island from the mainland. Although, you can avail public transport service from Nadi to Wakaya via Suva.
Wakaya Island is basically a part of the Lomaiviti group of islands and lies in the east of Viti Levu. The island has 2200 acres of Wakaya Island where you can find luxury Wakaya clubs, spas, private hideaways, and luxurious resorts. In this tropical island, you can find everything natural right from the white sand beaches, bluish-green water, woven bamboos, tropical hardwoods, and lava rocks. You can enjoy a lot of tourist activities – water sports that include scuba diving, snorkeling, fishing, kayaking, and boating.
4. Kadavu Island:
How To Reach: You can easily reach Kadavu Island from Fiji's mainland. You can take a direct flight from Nadi international airport and reach Kadavu within 50 minutes.
Kadavu Island has a considerably small size but despite that, it is the memorable Fijian island for tourists. It is considered a prominent place to find a lush green forest, winding rivers, virgin beaches, and serene villages. It has got the most popular Great Astrolabe Reef. The Great Astrolabe Reef is the healthiest and largest coral reef of the world. Moreover, the island imparts superb snorkeling and diving experiences for nature lovers.
Summary:
What could be better than having a relaxing vacation amidst a serene environment, soft Fijian music, and good Fijian food? So whichever island you choose to spend your holidays make sure you are living it to the fullest.